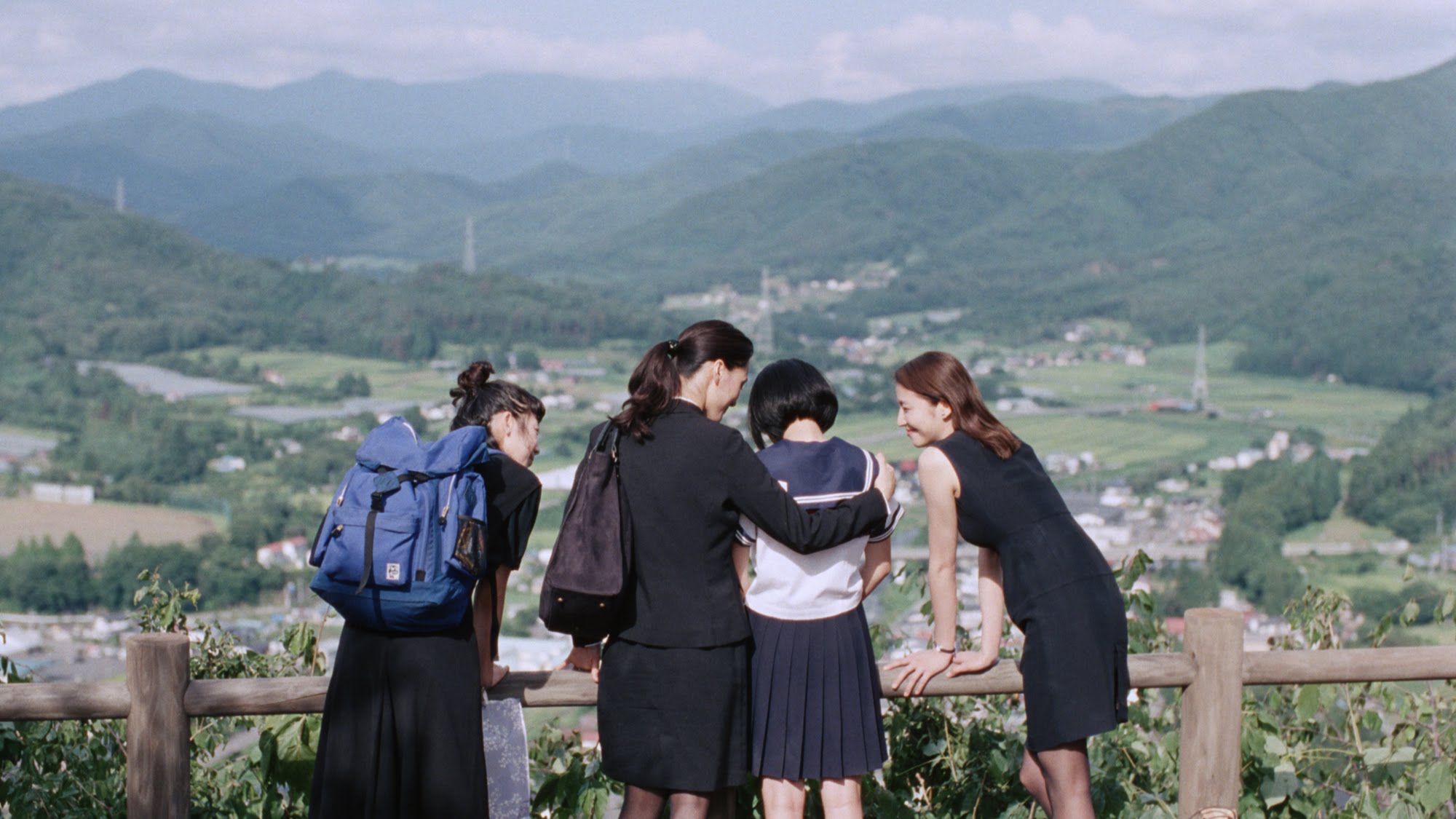 At 128 minutes, Hirokazu Koreeda's subtitled family drama Our Little Sister may, on paper, seem like a long runtime, but the Ozu-styled story plays out perfectly. Koreeda has had a diverse career since the early 90's with such titles as Maborosi, After Life and Air Doll.
This film stars Haruka Ayase, known for her title role in Ichi, as Sachi Kôda, 29,  the career focused older sister of care-free Yoshino, 22, played by Masami Nagasawa, and tom-boy Chika,19, played by Kaho.
The three young women live their own lives at work and socially but come together as a family in their deceased grandmother's old, but bustling, home. Early on, the sisters receive a call informing them that their father, estranged from them and his first wife for 15 years, has passed away leaving behind his third wife and their half-sister from his second wife. After attending the funeral, the sisters realize that their half-sister Suzu, played by Suzu Hirose, has been left behind with no family other than them. Her mother had died before their father married her recently widowed step-mother. The three sisters decide to take in 13 year old Suzu out of a sense of responsibility and pity.
As young Suzu gets to know her three older sisters, so does the audience. Their mother left the three sisters with their grandmother a year after their father left and Sachi feels the need to always be responsible. Not only does she care for everyone in her home, but also as a medical professional. Yoshino is dissatisfied with her job in financial planning and spends her time drinking, eating and dating dead-beats. Chika loves going to the local school's soccer games and working in a sporting goods store with her uncouth mountain-climbing boyfriend. During dinner, he even offers to show off the toes he lost in an expedition. In the end, all four of the sisters need to make choices in order to balance their romantic lives, their careers, their family and their own happiness.
For her part, Suzu starts out being very formal, not knowing where she fits in. Her new sisters, however, are very encouraging and help her to fit in in a new town. Like Sachi, Suzu feels a great drive to be responsible. While he was ailing, she cared for her father in the hospital. When no adult was willing to introduce the family at his funeral, she offered to try. In her new home, she is eager to help with the cooking and the chores. However, Suzu also enjoys sport. Like Chika, she loves soccer and becomes a de facto captain of Chika's favorite team, leading them to many wins. Her similarities to Yoshino are more subtle, but both have a deep passion for food.
The bond between Suzu and Sachi is the strongest. Both have strong memories of their father. The other two sisters were quite young when he left and they have easily moved on from his departure. Sachi is still angry about his leaving 15 years ago. She regularly refers to him as "kind and useless". He would go into debt to help a friend and fall in love with a woman while leaving a family behind. Suzu shows Sachi that their father still cared about them, even if he didn't show it.
The stories are all well balanced, never focusing on one person for too long, and playing well to develop each other's character. Sachi and Suzu are the main focus, but even many of the minor roles are developed to show the importance of family and community and how they impact their lives.
Shot mostly in Kamakura, there are many beautiful seaside shots of the town in which the sisters live including a gorgeous, if not obligatory, shot of a bike ride through a "tunnel" of cherry blossoms. Transit nerds will enjoy the train station scenes at Fujikawa Station as well as street cars in Kamakura.
The cast is very well-rounded and versatile. Nearly every character has their own moments of joy, sadness, humor and caring. Never over-the-top, the actors played through these moments with a smooth subtlety that pulls the viewer in. Each of the four lead actresses were nominated or won in the Japan Academy Awards.
The score was composed by Yoko Kanno of Cowboy Bebop fame and is, of course, spot on. Being mostly familiar with Cowboy Bebop, I didn't realize the score was Kanno's at first, but it did strike me at how distinctive it was while smoothly playing with the story.
In total, Our Little Sister was a near perfect film telling simple stories that pull you into the character's lives. At no point would one realize that it is based on a manga, Akimi Yoshida's Umamachi Diary series. I'd highly recommend seeing it for anyone that enjoys a well-shot family drama.